Introduction to Website and Domain Categorization - application to Online Stores
When we go shopping to a local store to purchase grocery or other things, almost all stores have various parts labelled with categories, e.g. Fruits, Vegetables, Dresses, Jewelry, etc. This categorization system allows us to quickly find what we are looking for.

It is then not surprising that we expect the same kind of help from online stores as well. In a way, the categorization for online stores is even more important, because whereas in the physical store you could eventually visit all parts of the store by foot, the equivalent in online setting is much harder. Some online stores literally offer millions of different items to purchase.

Website category check improves the search, discoverability and filtering on the online shop websites and ultimately leads to better conversion.


Additional benefits of Website Categorization for Online Stores
There is also additional reason why online stores can benefit from web site categorization. A lot of them obtain their visitors via the search engines. For that to occurr, the online store benefits from having many webpages indexed in search engines, each one presents an additional opportunity to be found by a visitor searching using a certain keyword.
If an online store has many products then their categorization and addition of category pages (which show products in the same category) is an easy way for online store to increase their presence on rankings of search engines. And thereby potentially gain more visitors.
Categorize Websites with Product Taxonomies
When it comes to product categorization there are many possible options on how to categorize products into categories. In fact, many of the online stores have their own set of definitions, which are also called product categorization taxonomies. If one does not want to invest time in inventing own taxonomies, there are several taxonomies available to choose from. The most well known ones are those from Google and Facebook.
Also often used is the one from organization Interactive Advertising Bureau or IAB for short. The latter has several different taxonomies available, each suite for particular purpose. Though if one is interested in ecommerce website categorization then the taxonomies of Google and Facebook are the most detailed ones.
When categorizing products there are two main ways of doing it. One can assign a single category on certain Tier level. E.g. sunglasses can be assigned category "Apparel & Accessories" for so-called Tier 1 category, "Clothing Accessories" for so-called Tier 2 category and "Sunglasses" for Tier 3 category, within Google Product Taxonomy. Or one can predict the full path:
Apparel & Accessories > Clothing Accessories > Sunglasses
This is also known as the taxonomy path of the product.
The higher number of levels you use, the more easily can your customers find your products in your online shop.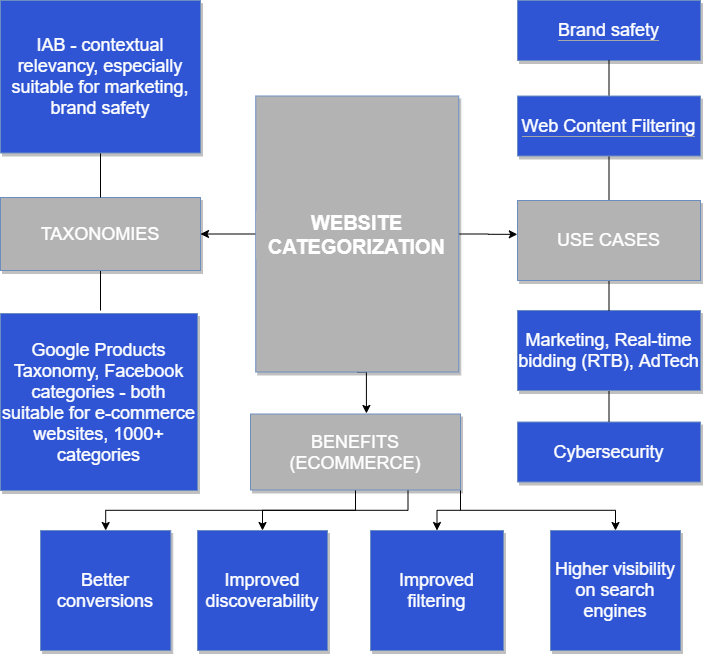 Caption: Website categorization taxonomies, use cases and benefits
Automated website categorization with machine learning models
In practice, website categorization is done in an automated way, using machine learning model developed and trained specifically for url category check. Although there are many possible machine learning models that can be used, from Support Vector Machines to Recurrent Neural Nets to name just a few, the key feature of any machine learning model is the accuracy it is able to achieve. An important role in regard to that is the size and quality of the training data set on which machine learning models are trained. As with all machine learning models, the more data we have available, the better is the accuracy of website category check.
We took great care in preparing large and high quality training data sets for our website categorization models resulting in very high accuracy scores.
URL classification for non-english languages
Our website categorization solution also works with texts that you want to classify but that are in non-english languages. We support website categorization of texts written in german, french, italian, spanish, portuguese and many other languages. Contact us at
[email protected]
for more information.